Description
Make every workout better than the last.
AminoBoostXXL™ has the proper combination of amino acids that minimizes muscle breakdown and maximizes growth, helping you build muscle on top of muscle. Proper use can lead to improved performance and greater strength and size gains, especially if you've hit a plateau. It's all about recovery.
For more complete product information: watch video  /  read product brief
Neal's Secret Slushy Recipe
Mix up your pre-workout routine with Neal's Secret Slushy.
Directions:
As a dietary supplement, mix 1 scoop (16g) with 8 oz cold water and mix vigorously for 30 seconds. Alternatively mix with 20-40g of your favorite fast acting carbohydrate beverage.
For maximum results: On Training Days, use 1 serving 20 minutes pre-workout and 1 serving immediately post-workout. Individuals under 150lbs use half of the above recommended dosage.
AminoBoostXXL is part of dotFIT's Xtreme Muscle Stack, a synergistic application of formulas that maximizes your internal physiology to ensure significant improvements in exercise intensity, performance, recovery and most importantly – results. For complete information click here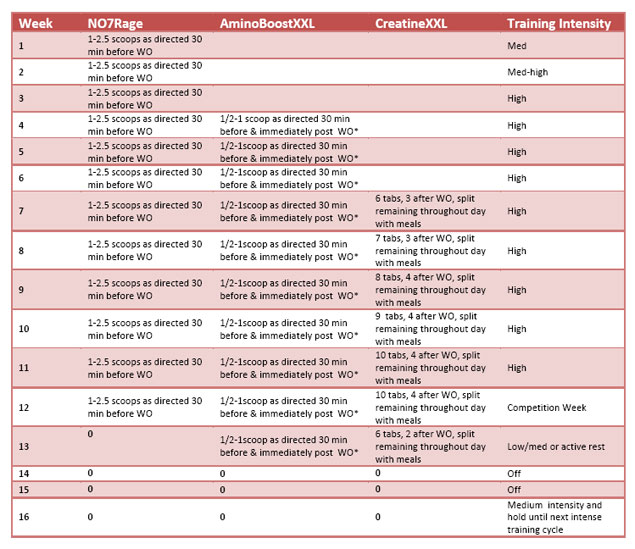 Specifications
Supplement Facts

Serving Size: 16.4 g (1 Scoop)
Servings Per Container: 37

Ingredient
Amount Per Serving
% Daily Value*
Calories
0
Calories from Fat
0
Total Fat
0g
0%
Saturated Fat
0g
0%
Trans Fat
0g
**
Cholesterol
0mg
0%
Sodium (as Sodium Chloride)
50 mg
2%
Total Carbohydrate
0g
0%
Dietary Fiber
0g
0%
Sugars
0g
0%
Protein
0g
0%
Amino Boost XXL Proprietary Blend
12g
**
– L-Leucine
**
– L-Phenylalanin
**
– L-Lysine
**
– L-Threonine
**
– L-Valine
**
– L-Histidine
**
– L-Isoleucine
**
– L-Methionine
**
**% Daily Value not established.Other Ingredients: Citric Acid, Natural and Artificial Flavors, Lecithin, Malic Acid, Sucralose, Spirulina Powder (color), Silica, Pectin, Acesulfame Potassium.Allergen Statement: Contains SoyContains No: Dairy, Fish, Crustacean shellfish, Tree nuts, Peanuts, or Gluten.
No Sugar, Salt, Starch, Artificial coloring, Flavoring or Preservatives added.